Other entries in this trip report:
If all goes according to plan — and the weather gods don't decide to play tricks on me — I will — finally! — be touring California's Lost Coast next week.
How do you lose a coast? Well, actually you don't. But you can decide it's so geologically unstable you don't want to build and maintain your signature coastal highway through it. That's what California did decades ago, and it's why Highway 1 abruptly turns inland north of Fort Bragg after hugging the coastline for hundreds of miles.
There are roads through the Lost Coast…for various values of "road". Actually, given how unstable and lightly-populated the area is, Humboldt County does a great job of maintaining Mattole Road, the primary route through the Coast. But "great" in this instance means "frequent potholes and some gravel stretches", all of which makes riding a bike more of a challenge.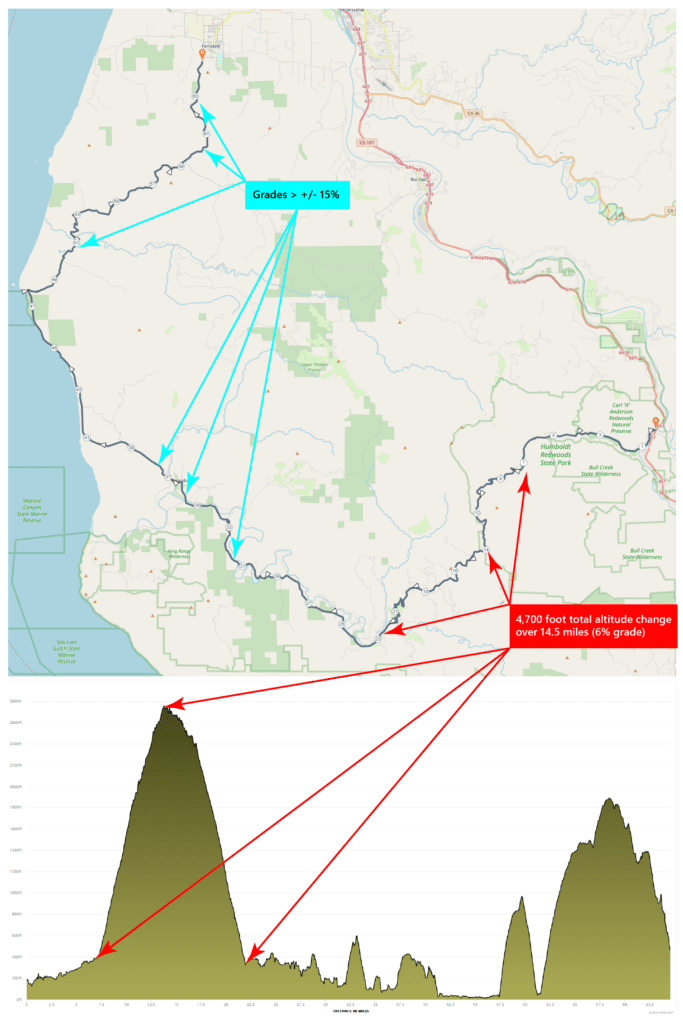 There are also some major grades and switchbacks probably more suitable to off-road motorcycles than street bikes like my Yamaha FJR-1300. But plenty of street bikes make the trip annually, so I'm hoping I won't have too hard a time.
I'll be getting up to Garberville, my jumping off point for the Coast loop, via US 101. Which is a very nice ride…except for the section between the Golden Gate Bridge and Novato, which always seems to have some of the craziest drivers in the Bay Area1.
After doing the Coast I'm going to cruise home along Highway 12 because it's got some of the most spectacular coastal views I've ever seen in California. Plus, I want to experience the steep twisties between where Highway 1 peels off of US 101 and where it hits the coast.
Stay tuned for more detailed trip reports!
---
My first ride through there, years ago, was punctuated by a moron in an econobox who, while talking to her passenger, migrated across three lanes of traffic and missed hitting me on her final lane change by about 6 feet. At 75 miles per hour. Fortunately, I'd had my eye on her throughout so I was able to adjust. ↩

I'll be staying overnight at Fort Ross Lodge ↩