We are back visiting Chicago, this time with our friends Brian and Cathrin. Why Chicago in early March, when it can be cold and snowy? Well, partially because it's the end of the line for the California Zephyr, the Amtrak service linking the Bay Area to points east. Unfortunately, this time the really bad snow struck in the Sierras rather than the Midwest, causing Amtrak to cancel our train.
But there are plenty of other reasons to visit Chicago. And, as it turns out, the weather is relatively pleasant…meaning some days in the low 50s and not too many (so far!) with lows below the 30s. Good walking weather, if a bit brisk. You can tell this because most of the natives aren't wearing gloves, and some can be seen in shorts.
The title of this post comes from a poem I saw in one of the many places we visited while learning about Chicago's architectural history.
Hog Butcher for the World,
Tool maker, Stacker of Wheat,
Player with Railroads and the Nation's
Freight Handler;
Stormy, husky, brawling,
City of the Big Shoulders:

Carl Sandburg
Ol' Carl flagged it as the City of Big Shoulders, which was later changed by his fellow Chicagoans to the City of Broad Shoulders. Proving even experts make mistakes occasionally.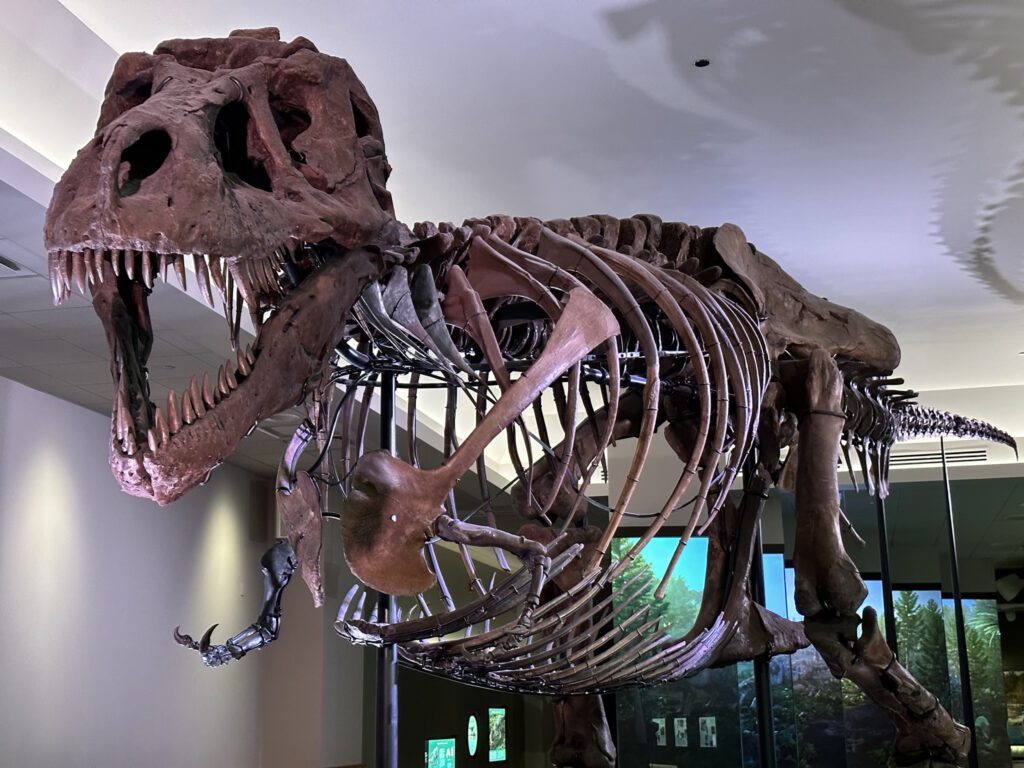 We started off by visiting the Field Museum. One of whose star attractions is Sue the Tyrannosaur. Turns out "she" was named after the paleontologist who discovered "her", and they don't actually know what gender "she" was. Which may explain why Sue recently tweeted its pronouns are they/them.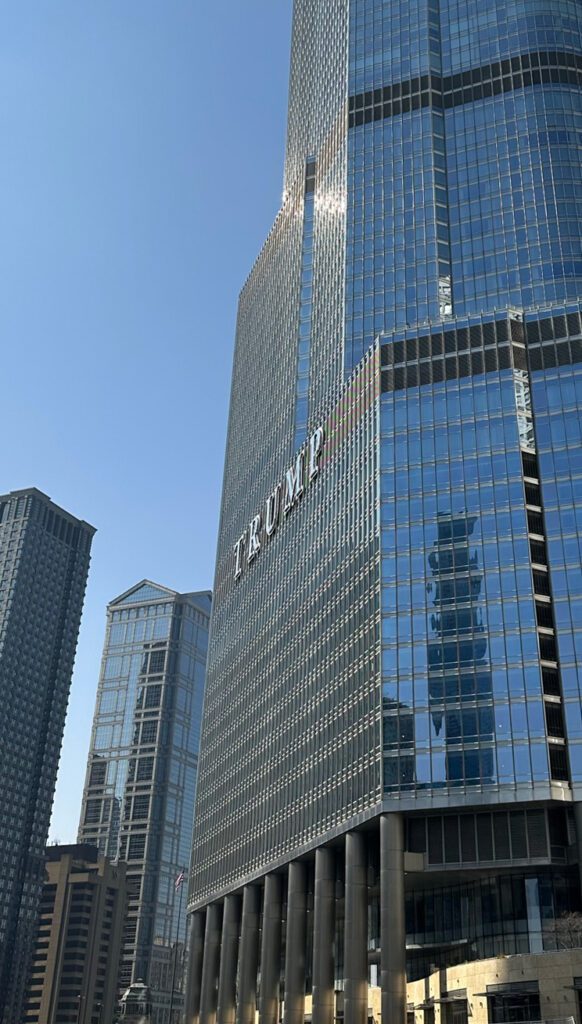 The last time we were here, back in October, I was impressed by the city's skyline, and the variety of cool-looking buildings. It turns out — unbeknownst to me — that Chicago is known for its architecture. So this visit we took a boat tour on the Chicago River focusing on architecture1.
The tour didn't have an auspicious start, as it began right next to this building. What is it about some people that requires they splash their name, in giant letters, on the stuff they own (and even stuff they don't)? It reminds me of a dog's unceasing urge to piss on things they walk by.
No matter, it was just a momentary distraction, quickly overshadowed by a remarkable range of building styles. Some of which you can see arrayed here.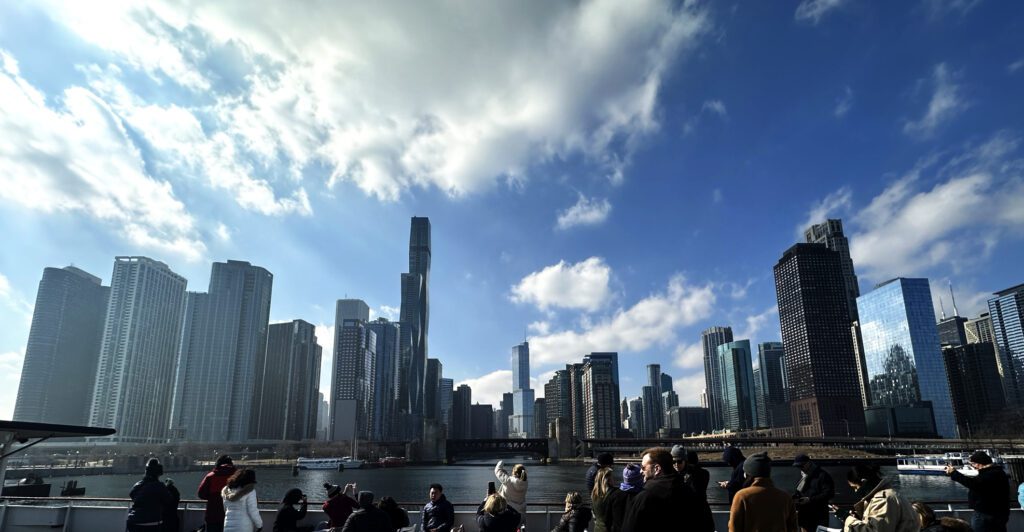 But it's not just new buildings and skyscrapers. There are quite a few older buildings, some of which are still in use, as well as a large number of bridges, some semi-abandoned and operated only once a year during their annual safety inspection.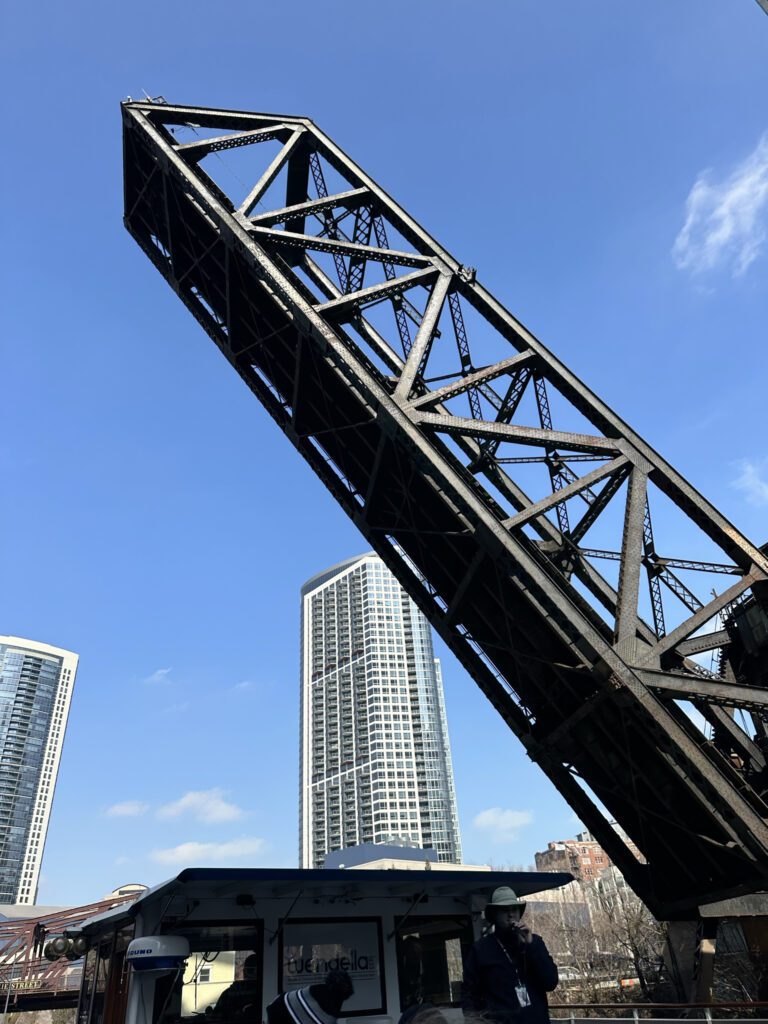 Every bridge you'll find on the Chicago River is of the tilt up variety. Well, all but this one, which despite its age is still in use.
One of the things we all loved about the tour was our guide's deep knowledge and his often semi-comedic delivery. That was particularly on display when he described this next building as the "world's largest 'you are here' map"…which it is.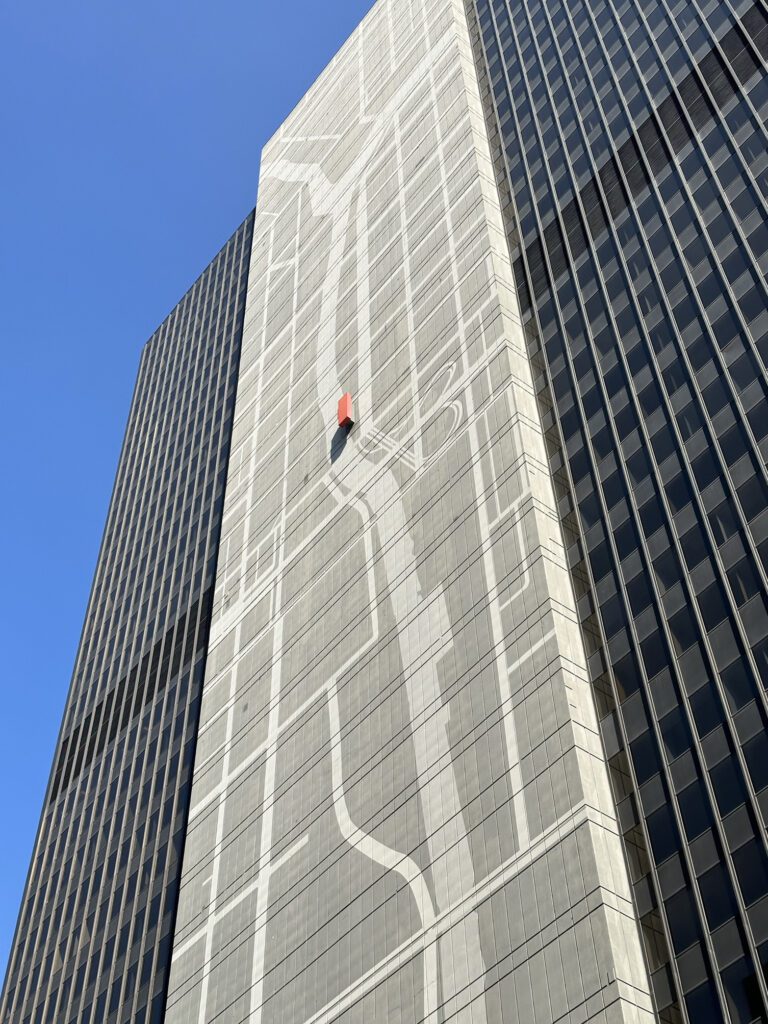 Or this one, which was designed and built in the late 1920s…with a dirigible landing dome on its peak, totally prepared for a surge in high-roller arrivals which never materialized.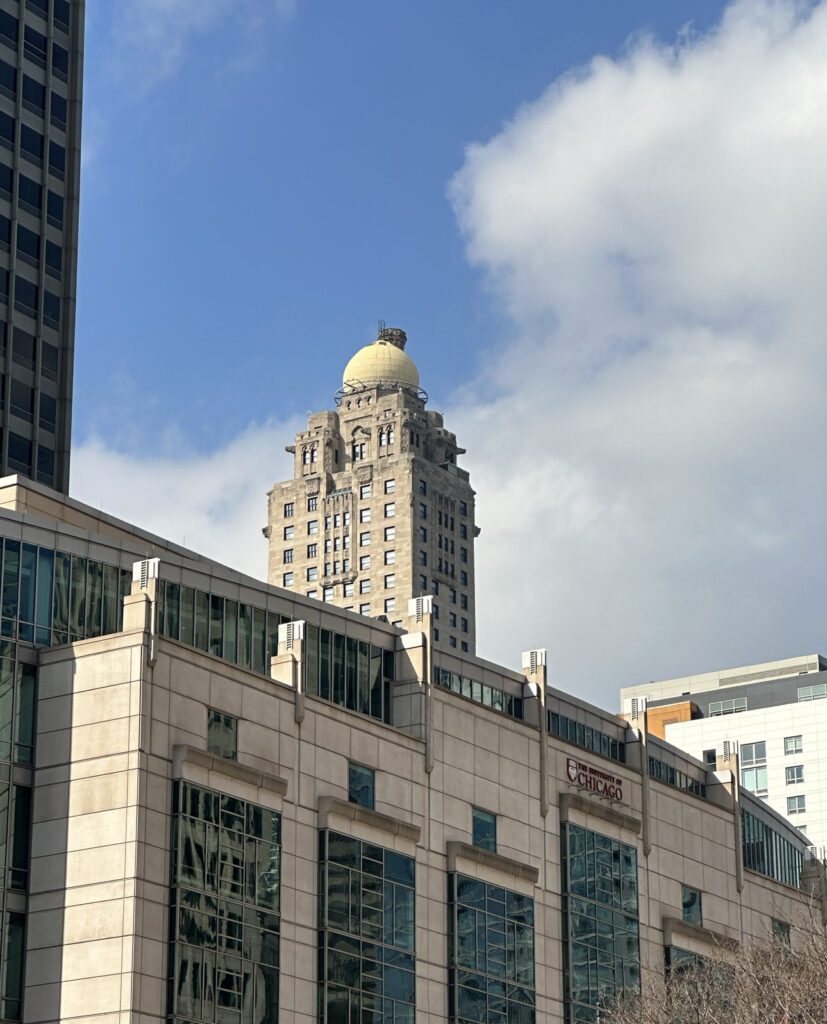 After the river tour and a tasty lunch we went over to the Willis Tower, which from 1974 to 1998 was the tallest building in the world. When it was known as the Sears Tower, a title it kept long after Sears moved out in 1988 (Willis Group, an insurance broker from London, bought the naming rights in 2009).
Getting to the Willis Tower's Skydeck elevators requires both purchasing a ticket and navigating a museum of sorts about Chicago, its buildings and the tower itself. It also is where I ran into that Carl Sandburg poem.
The displays offered a lot of detail on Chicago, including some of its signature foods. One of which at least, the Jibarito, I am definitely going to try.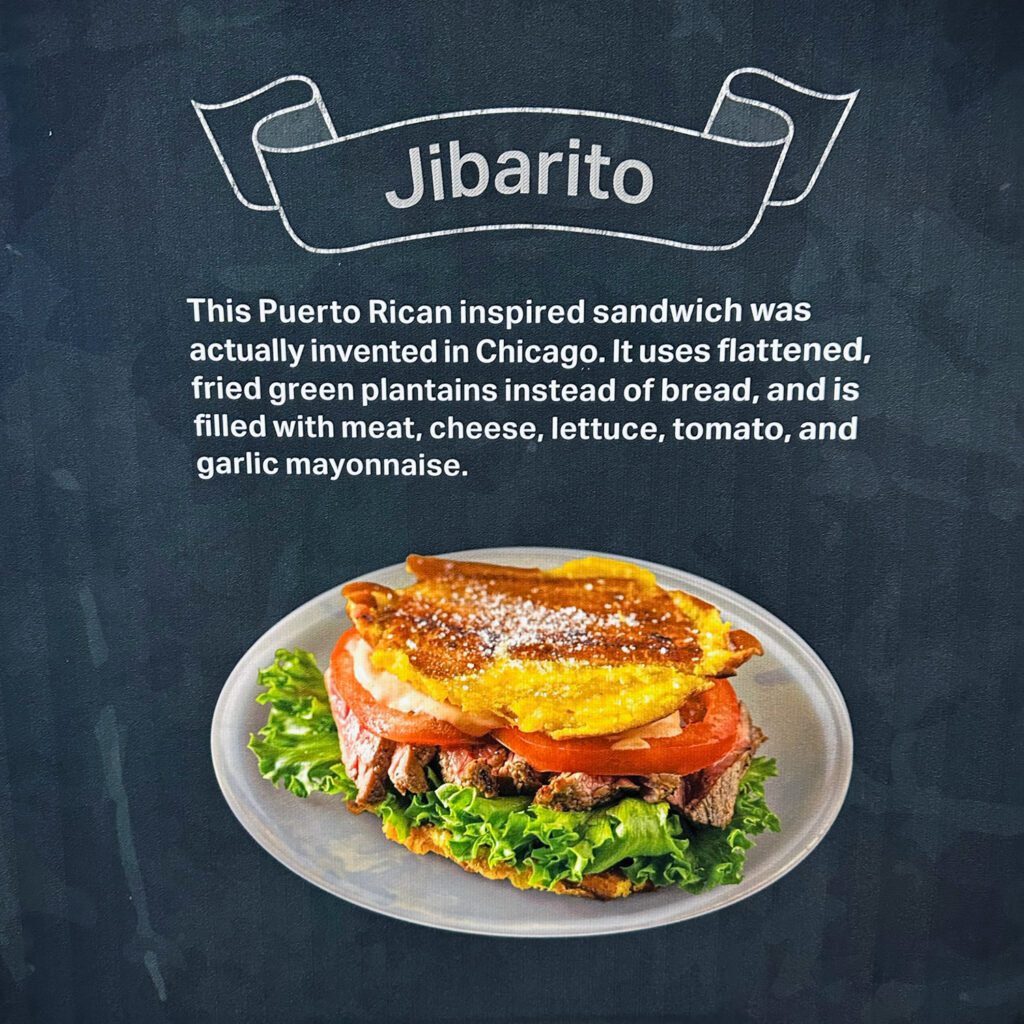 Skydeck itself was all one could hope for (the day was cloudless, and there was little haze). I even managed to get up the nerve to walk out into one of the Ledges, glass boxes that protrude from the side of the building so you can, if you are so inclined, see what the ground looks like from 1,353 up. Answer: far enough way that my knees felt weak even though I was standing on something that could hold tons of weight.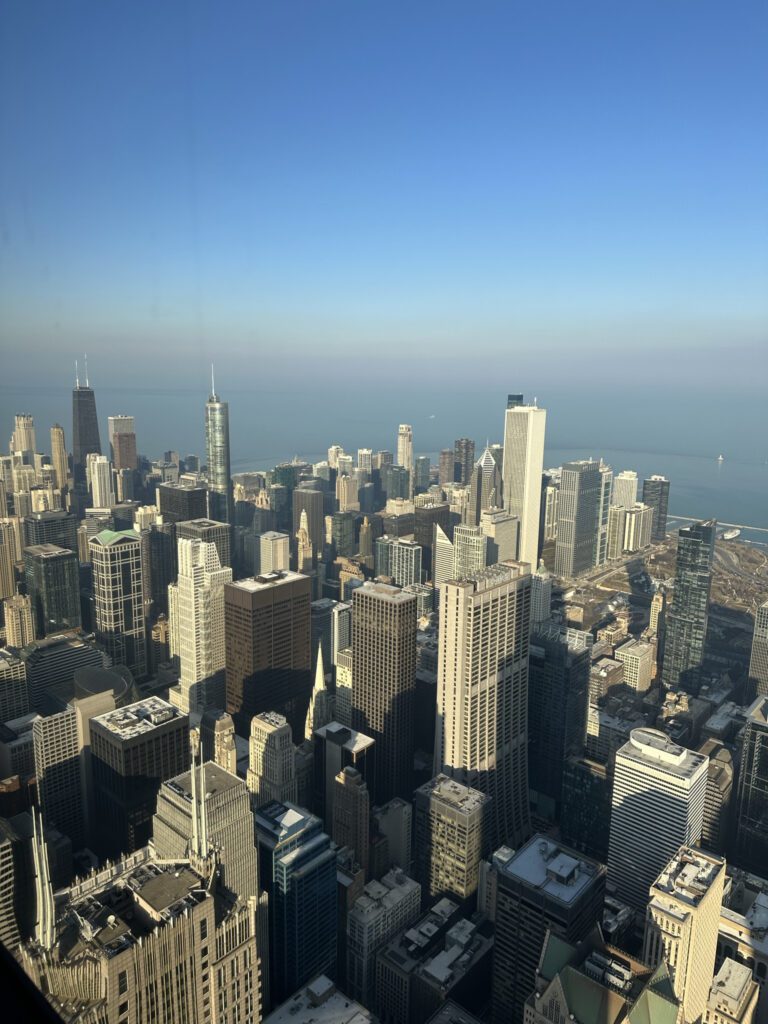 You can find the entire album of photos from our Chicago trip here.
---
---
The outfit we went with, Wendella Boat Tours, did a fabulous job. Highly recommended! ↩