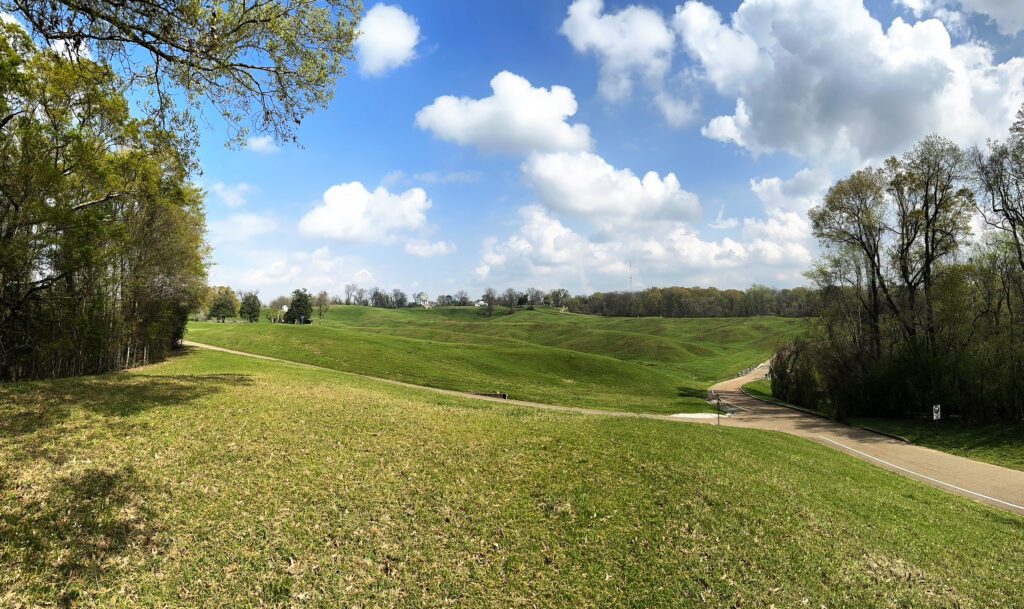 Our friend Brian wanted to see at least one Civil War battlefield on our trip. Given that we were coming down the Mississippi there were quite a few to choose from…but if you only have time to see one, the choice is obvious: Vicksburg. Which was just as important a battle as Gettysburg (and culminated on the same day, July 3, 1863) but isn't anywhere near as well known because it didn't feature titanic battles or Bobbie Lee (whose fame, despite losing, was set in stone by the apologizing manipulators of The Lost Cause)1.
But it did feature Ulysses S. Grant, William Tecumseh Sherman and a tactical breakthrough which changed warfare as we know it2.
Vicksburg's strategic importance rested on several factors. Control of it would cut the Confederacy off from its western elements (e.g., Arkansas, Texas).
More importantly, it would give the Union pretty much total control over the Mississippi River. Which was important because Confederate control of the river prevented the Union's northwest elements (e.g., Indiana, Illinois, Wisconsin, Iowa) from shipping crops overseas. According to Michael there was serious pressure building within those areas to secede from the Union and cut a separate peace deal with the Confederacy to re-open the Mississippi to those grain shipments. I'd never heard this angle before4, but, if true, it makes perfect sense. Because, as with much of American politics, it's all about the money5.
One interesting tidbit (from the many Michael shared with us). As conditions in Vicksburg worsened dramatically, a senior Confederate general, James Bown, offered to "feel out" his Union opponents to see if they were open to ending the siege. Pemberton, the Confederate commander, wasn't ready to surrender but he was willing to have Bown talk to the Union commanders.
Grant told Bowen he'd be willing to talk, provided what they were talking about was surrender. Bowen brought back word Grant was willing to talk…but left out the part that it had to include surrender.
So, when Grant and Pemberton met things did not go well. In fact, according to Miachel it was the subordinates on both sides who developed the eventual terms of surrender that were Grant and Pemberton signed.
You can see more photos of Vicksburg (and Natchez and New Orleans) in my Google photo album.
---