What sparked this trip was an invitation to the wedding of one of my college housemate's daughters. She, too, had graduated from the State University of New York at Buffalo. Known today as the University at Buffalo, but almost always referred to, then and now, as UB. Unlike her dad Gary and me, though, Jessica and her soon-to-be-husband (a Canisius College alum1) put down roots in Buffalo and stayed there after graduation.
Come, I will be honest with you: I never, ever, expected to return to Buffalo. Not because I didn't enjoy my time there, or looked down on the university, the city or the area. It's just a personal quirk: my focus has always been on the people and things relatively near to me, wherever that happens to be2. But the wedding was a great reason to return to some old stomping grounds. And, as it turned out, Barbara and I both had a blast!
My first stop on the "reunion tour" was the house where I lived for two and a half years with Gary and a changing group of other students. Including Peter, the guy who bought the house which we rented from him.
It was in surprisingly good shape. And was still serving as student housing, which we learned when we came back to our car and found a group of young women chatting on the front porch (it was unusually warm in Buffalo for early November, breaking into the high 70s). I introduced myself to them as an alumnus who had lived there decades earlier. Turns out they were all enrolled in the school of pharmacy, located at what is now the UB south campus but was the "main" campus back in the mid-70s when I was there.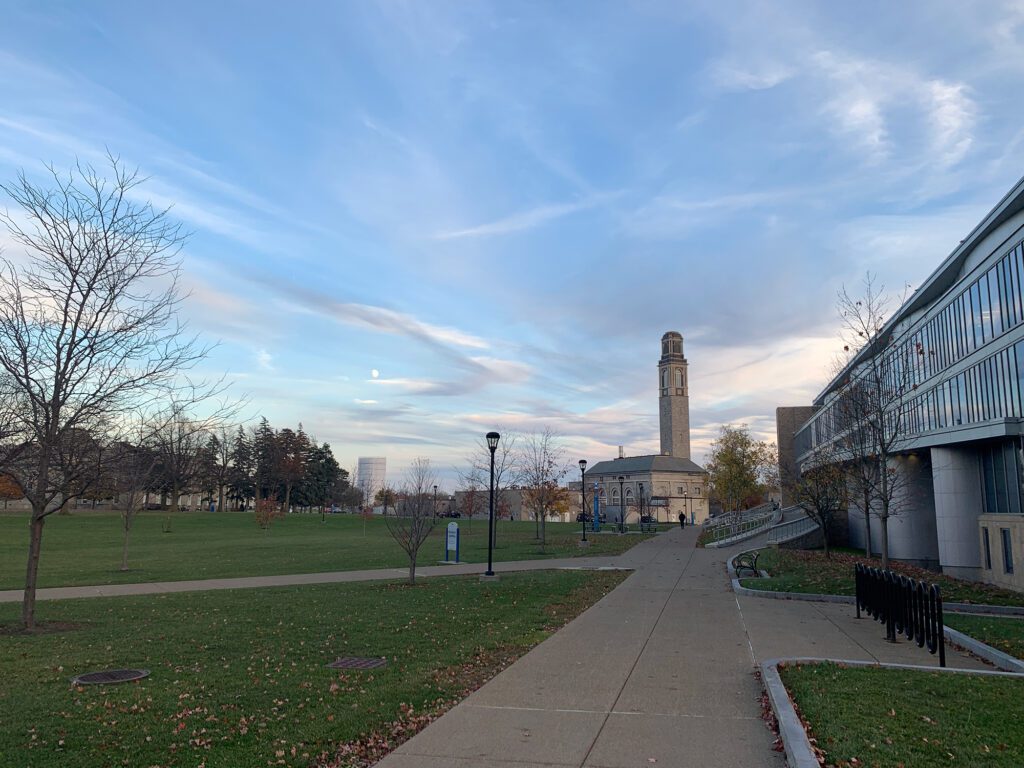 While Gary, Peter and most of my other housemates had lived at or had classes at the north campus, all of mine were at the "main" campus, just up the street from the house Peter bought. Which has, as a result of most of the university's programs moving to the north campus after I graduated, caused the south campus to be pretty empty these days. Not to mention that a number of the buildings I remembered were just gone3.
I did manage to find, and get into, the building housing the lecture hall where I took Introductory Mathematical Physics. Which is the class in which I met Peter (more on that below), and through him Gary, Ed, Rob and a host of others, without whom my life would've been very different. And a lot less rich, I suspect.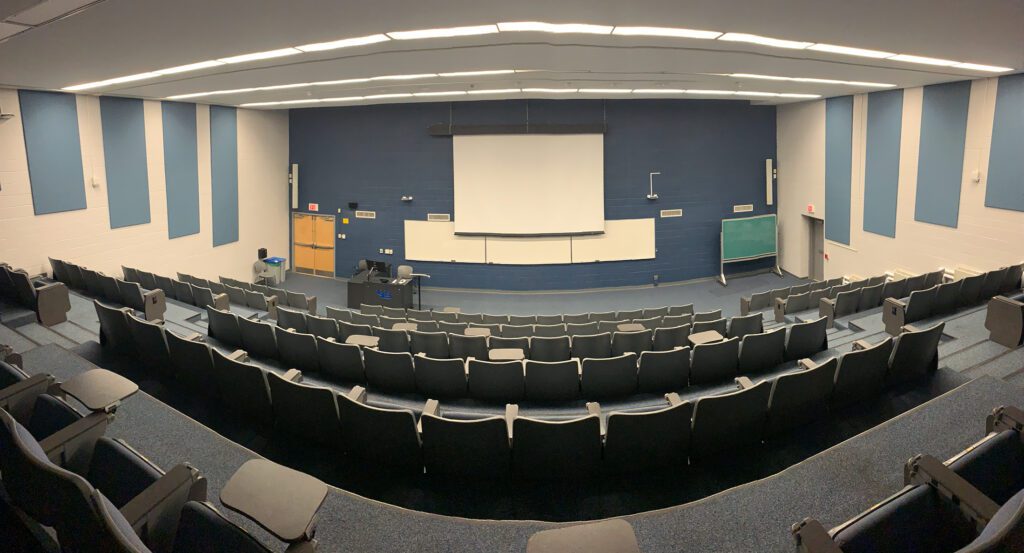 Later on during our stay in Buffalo we toured the north/current main campus. As I never attended classes there, or lived there, I had little or no emotional connection to it. But it was still fun to check it out, and see how certain things had been transferred from the old campus to the new one.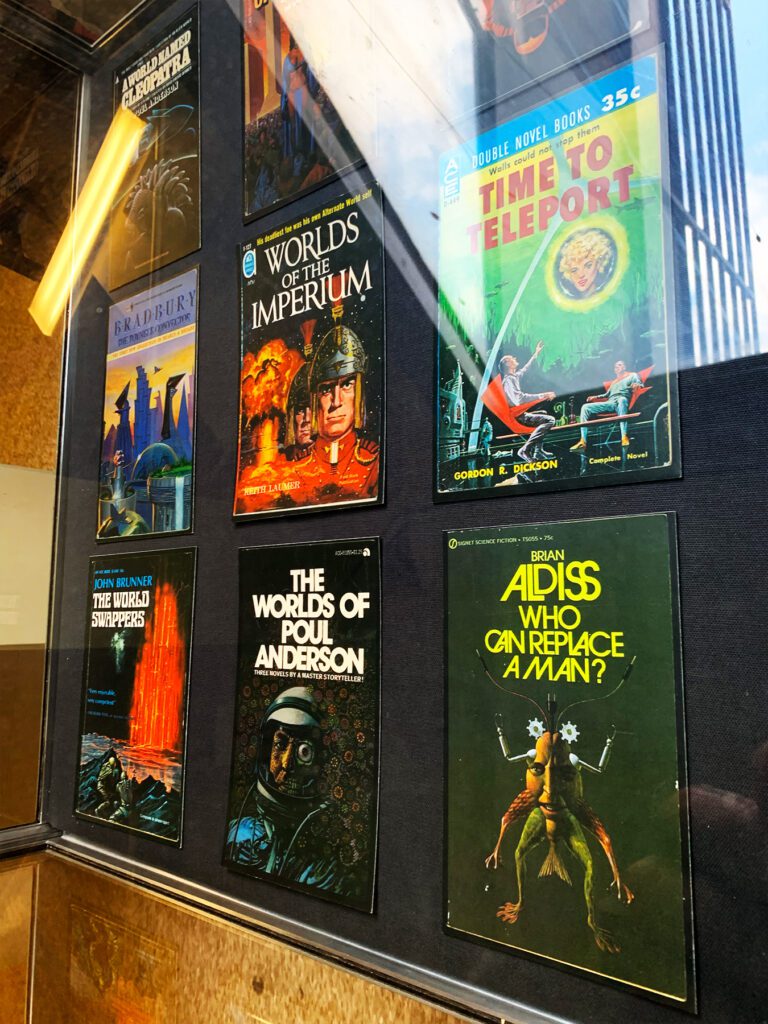 One of those being Lockwood Library. Lockwood doesn't look anything like the Lockwood I used to haunt, and in which I learned about the Library of Congress catalog system4.
I was pleased to see the new Lockwood still sported a lot of science fiction novels. Which, of course, is one of the main reasons I used to spend so much time in the old Lockwood. Can't study 24 hours a day, after all.
The basement of Lockwood library was where I met Peter. I share a fondness for bright colored clothing with my dad5, and one evening I was in the library basement wearing a bright purple shirt that had broad orange stripes on it. Because it was a basement in the winter in Buffalo I was also wearing a scarf in my high school colors of blue and gold. Peter came down the stairs, saw me sitting there, and said "You're in Mathematical Physics 101, right? I need help working out one of these problems. And don't ever, ever wear that shirt with that scarf, ever again." Of such encounters are lifelong friendships sometimes born.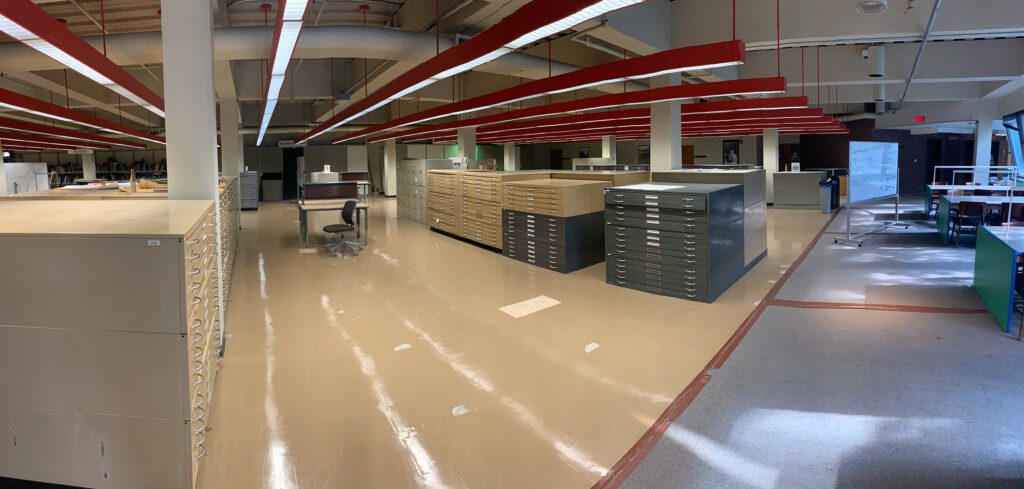 While at Lockwood I took the time to locate an obscure book I'd dug up at the old Lockwood, decades ago, Principia Mathematica by Bertrand Russell and Albert North Whitehead. It was quite a kick holding what sure looked like the same book in hands aged 45 years since I'd last touched it6
After leaving the library we briefly stopped by the student union. It, too, was much airier and open than the one on the south campus I used to frequent. We also got a kick out of the Graffiti Buffalo standing outside the entrance to the union.
We didn't spend all our time touring my old college haunts. We had a lot of fun visiting places I'd never been to when I was a student. Like Barbara's go-to destination, the place where President McKinley was assassinated. I'm not sure I even knew, when I was a student, that had taken place in Buffalo. Naturally, it's not something the city goes out of its way to emphasize.
McKinley's assassination led us to the site where Teddy Roosevelt was inaugurated as President, which I also hadn't known was in Buffalo. It's a very well done exhibit, quite moving, and if you're ever in the area I recommended stopping by.
Another place we visited was the Martin House, which was designed by Frank Lloyd Wright, and is considered to be one of the best examples of his residential work. Definitely worth visiting, too!
But the thing I found most fascinating about touring Buffalo and seeing all the neighborhoods I never knew existed when I lived there, was the realization about how little I actually knew about the community. For years I'd talked about the place as if I knew it well. After all, I'd spent three and a half years there! But the reality is my life was so focused on my classes, the campus and my housemates and friends that I barely knew the city at all.
So what I'd thought would be a "reunion tour" actually ended up being a discovery tour. Which was great! It's always better to look forward than to dwell on, or worse yet live in, the past.
---