Well, I finally got to Coalinga. But man, what a bunch of silly little frustrations along the way!
First, it was raining in San Carlos when I woke up…which kind of offset my having delayed the start of my trip by two days so as to avoid the rain.
The rain eventually stopped while I was loading my bike. Because I had two extra days I'd taken a lot of care laying out what I was going to take and where it was going to get stowed. So of course the carryall which holds most of the stuff and is secured to the bike frame behind me failed to engage properly. No carryall, basically no luggage! Fortunately, I was able to fix it.
Meanwhile, it had gotten really sunny, drying out the roads. I figured I'd have time for a nice lunch and leave at 1 PM. Things were looking up!
But just as I stepped into the shower my fancy new iPhone weather app1 announced "rain will be starting at your location in 24 minutes!" And the skies grew dark, quickly.
So I raced to get out the door before it started…to no avail. In part because I couldn't find my earplugs (must have left them in Santa Cruz). Or my backup set of earplugs (no idea where they are). So I had to dig out my Really Old Earplugs. Which, of course, are painful to wear for long periods (that's why I got new earplugs).
By this point I was so pissed off that I started out despite the rain. Which kept getting heavier as I headed south on surface streets (I figured they'd be safer than freeway travel in the rain). It looked like the cloud cover was less to the west, up by I-280. So despite my reservations about riding the freeway in the rain I went for it.
That turned out to be a good decision. As soon as I got south of Redwood City there was no more rain. The freeway surface had been dry the whole way, too. Finally, a break! Well, up until I had to drop off the freeway to clear the sunscreen out of my left eye, courtesy of rain getting inside my helmet when I had the visor cracked open to cut down on condensation build up while on surface streets.
But you know what? I'm glad I persevered. Once I got down to San Jose the weather turned beautiful! I had a nice cup of coffee in Hollister, and then went down CA-25 to CA-198 to Coalinga, my first pit stop.
And who wouldn't love seeing vistas like this, for mile after mile after mile?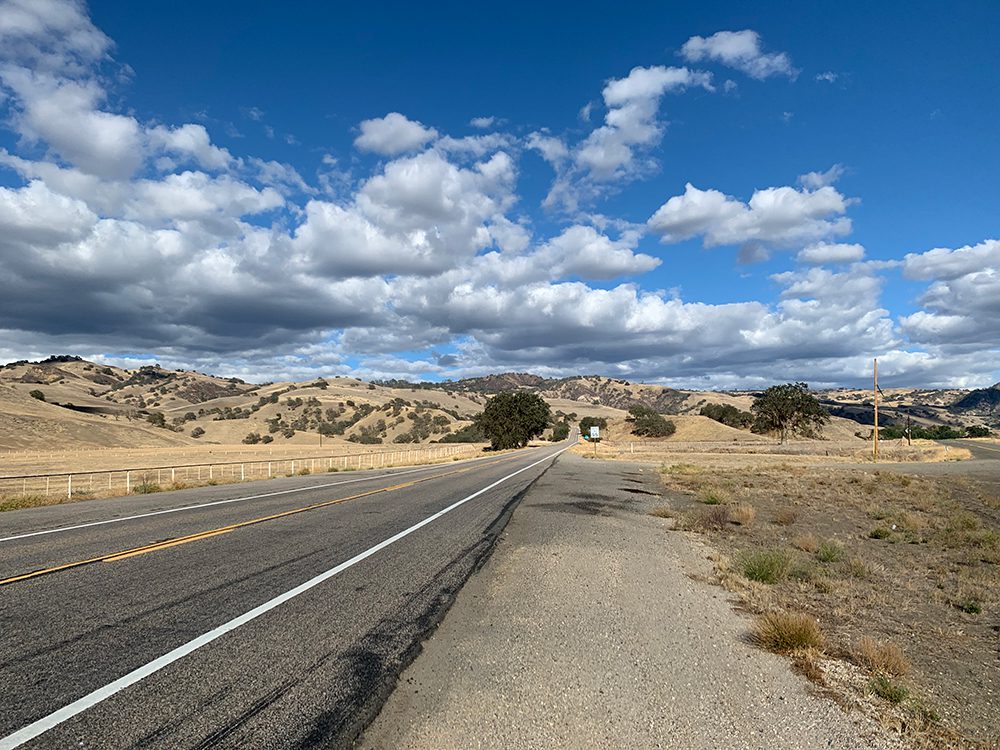 ---
Carrot Weather, check it out ↩