It's been a while since I did a longer ride (multiple, albeit minor, surgeries will do that do you — memo to file: don't grow old :)). My schedule right now isn't such that I could do a multi-day ride. Besides, it's winter in California and there's no guarantee our currently great weather would hold for several days, particularly in the mountains.
But it occurred to me that I've spent little time riding around San Francisco Bay itself. Yes, it's a major megalopolis — which aren't all that fun to ride through — but it's surrounded by beautiful low hills, some of which offer fantastic views.
Riding around all of San Francisco Bay would be an all day affair unless you stuck to freeways and what would be the point of that? But the Bay is conveniently bisected by the San Mateo/Hayward Bridge1 This first ride covers the northern half of San Francisco Bay.
Here's the route: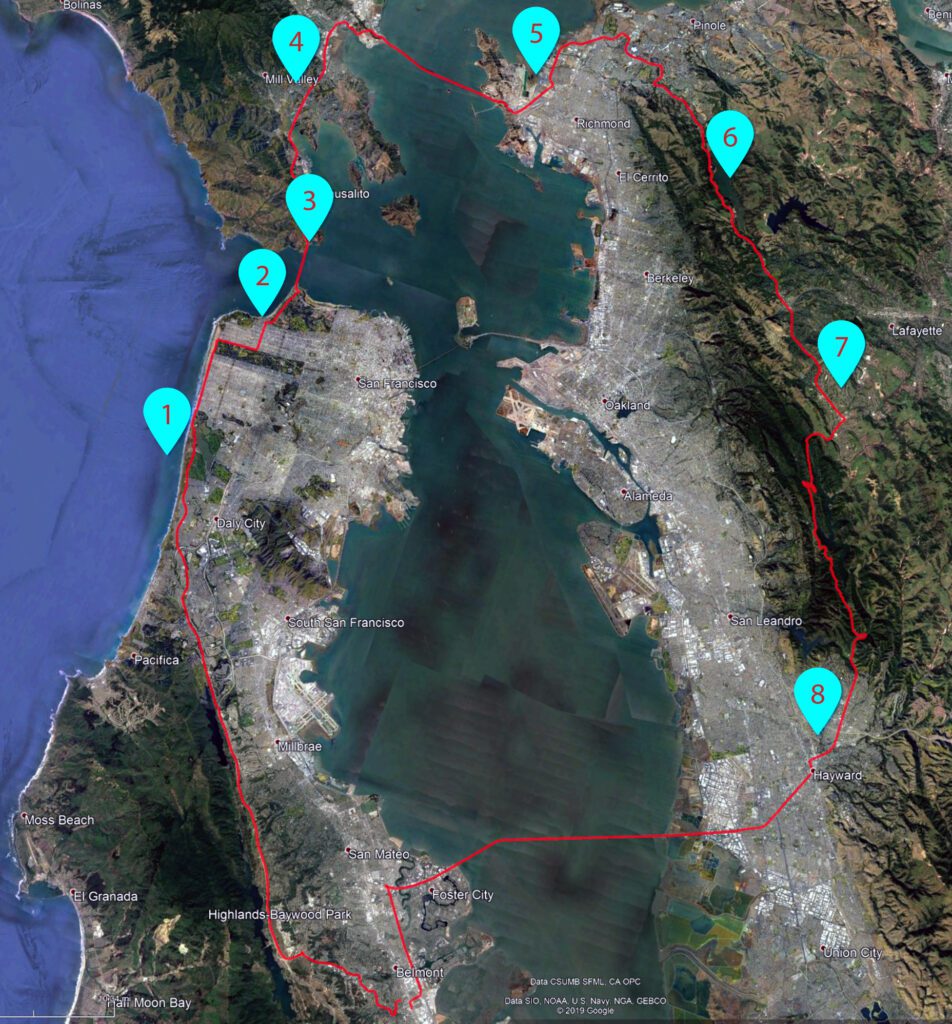 The Great Highway (gotta love the unconscious arrogance of San Francisco :)). Beautiful views of the Pt Reyes headlands and the Pacific. Also home to the most perfectly timed traffic lights I've come across in the entire Bay Area: if you hold to 40 MPH you'll make them all.
Watching the Golden Gate Bridge rise over the horizon on a clear day, or really any day, is spectacular. And well worth staying off the major highways to see.
I've never ridden over the Gate without stopping at this vista point and I doubt I ever will. The view is always good and when it's clear it's utterly spectacular:

I thought San Mateo County had some badly laid out roads. They're nothing compared to Marin! In addition to weird multiple angle crossings they include things like not bothering to connect two major freeways with a high-volume road. I'm told this was done deliberately, to stifle growth.
People speak of the Bay Area and forget it's made up of two connected bays, San Francisco and San Pablo. You've never heard of San Pablo Bay? You're not alone. I find it fascinating that while San Francisco Bay is surrounded by a giant megalopolis San Pablo Bay is surrounded by…pretty much nothing.
This was where the pretty part of the ride started. Other than the traffic on the road2 you're mostly in the midst of a tranquil forest. While you can't see San Francisco Bay you do get to admire vistas off to the east.
Around about here I reset my Google Maps directions to target Hayward as the endpoint and was startled to see the projected travel time was almost an hour (it was only about 20 miles away). Shortly thereafter I learned why: a well-paved but very twisty road, often decorated with piles of leaves and tree branches. And posted at 25 MPH. Well, for cars, maybe :). The most fun part of the ride from a motorcyclist's point of view!
Either the City of Hayward doesn't know how to lay out streets and coordinate traffic lights or it has one of the worst rush-hour-traffic-moving-in-all-directions problems I've encountered. It took me about 20 minutes to go ten blocks3.
All in all a great way to spend four-ish hours in the saddle. But it would've been even better if I stayed out of the afternoon rush hour.
---
Fun fact: the bridge connects the city of Foster City to the city of Hayward and should probably be called the Foster City/Hayward Bridge. But Foster City was built after the bridge. ↩

Every road in the east bay gets busy during rush hour; there is no flow/counter-flow pattern ↩

just shy of the Redwood Road I-580 interchange ↩